A Manhattan couple in their 30s have been arrested in Manhattan in connection with the 2016 hack of cryptocurrency exchange Bitfinex.
Big deal, you might think.  After all, cryptocurrency firms are being hacked all of the time, and sometimes those responsible are eventually brought to justice.
But one of the things that makes things different this time is that the US Department of Justice says it has seized and recovered US $3.6 billion (yes, 'billion' with a 'b') worth of stolen cryptocurrency that it has linked to the hack.
According to a press release issued by the DOJ, it's the largest financial seizure in the history of the federal government.
And that's just the money that the authorities have managed to get their hands on.
Ilya Lichtenstein, 34, and his 31-year-old wife Heather Morgan, are alleged to have conspired to launder a jaw-dropping total of US $4.5 billion from the Bitfinex security breach – an attack which knocked 20% off Bitcoin's value at the time.
But the story doesn't end there.
Because it turns out that Heather Morgan has left quite a digital trail on the internet.
For instance, Morgan contributed articles to Inc.com and Forbes.
Ironically, one of Heather Morgan's articles for Forbes from 2020 (after the Bitfinex hack) was entitled Experts Share Tips To Protect Your Business From Cybercriminals.
Curiously, Morgan describes herself in her Forbes bio as being "an expert in persuasion, social engineering, and game theory."
But that's not the oddest part of the story.  Because, bizarrely, Morgan styles herself as a rapper called "Razzlekhan."  In one music video she posted on YouTube she describes herself as the "Crocodile of Wall Street".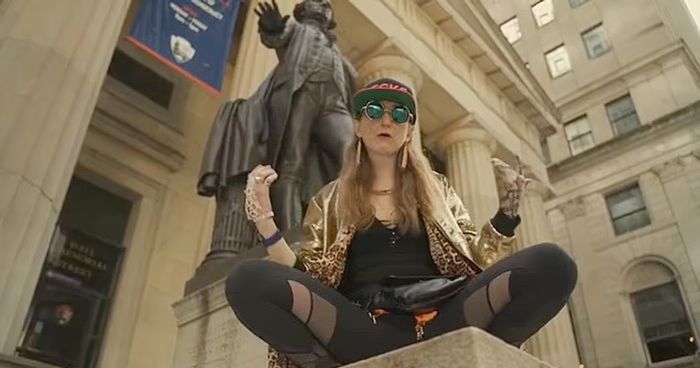 In the music video for a song called "Versace Bedouin," Morgan declares:
"I'm many things, a rapper, an economist, a journalist, a writer, a CEO, and a dirty, dirty, dirty dirty h*."
Notably, she doesn't say that she's a hacker or fraudster.  I guess that's something the courts will decide.  But I'm pretty confident – judging by this TikTok video she made – that RazzleKhan won't be troubling the rap charts anytime soon.
For his part, Morgan's husband Ilya 'Dutch' Lichtenstein is the co-founder of an online marketing firm, and has described himself as a "tech entrepreneur, explorer, and occasional magician."
"Today´s arrests, and the Department´s largest financial seizure ever, show that cryptocurrency is not a safe haven for criminals," said Deputy Attorney General Lisa Monaco said in a statement to the press.  "In a futile effort to maintain digital anonymity, the defendants laundered stolen funds through a labyrinth of cryptocurrency transactions. Thanks to the meticulous work of law enforcement, the department once again showed how it can and will follow the money, no matter the form it takes."
Lichtenstein and Morgan have been charged with conspiracy to commit money laundering (which carries a maximum prison sentence of 20 years), and conspiracy to defraud the United States (5 years in prison).
This looks like a case to watch over the coming months, if not to listen to.