Spanish police have arrested 34 suspected members of a criminal gang that are alleged to have run a variety of scams to steal data from over four million people.
Law enforcement agents across the country took part in 16 searches that not only seized electronic equipment and computer databases, four expensive vehicles, and $80,000 Euros but also confiscated a baseball bat, a katana, and two firearms.
According to a press release by Spain's Policía Nacional, the criminal gang is thought to have made almost three million Euros through email, phone, and SMS text scams – including "son in distress" scams where parents are tricked into believing their children are in danger unless money is sent urgently.
Specialist investigators in Spain's cybercrime unit are said to have been looking into the criminal network's activities since the beginning of this year, after thousands of reports from the public revealed the scale of the operation.
The scammers are said to have illegally accessed the databases of credit institutions and financial organisations, from where they not only stole data but also credited customers' accounts with money.
Then, victims were contacted by the criminals, who informed them that a technical error had resulted in them receiving a loan and that they were required to "repay" it using instructions provided by the scammer.
Victims were then pointed towards bogus websites which posed as financial institutions, and entered sensitive information that they believed was replaying the false loan – but in reality giving data directly to cybercriminals.
The stolen data was primarily monetised by the gang, according to police, by selling it to other cybercriminals and fraudsters – although other proceeds were also funneled into cryptocurrency investment platforms.
The gang is also alleged to have sold access to websites and tools that helped them carry out cybercriminal activities.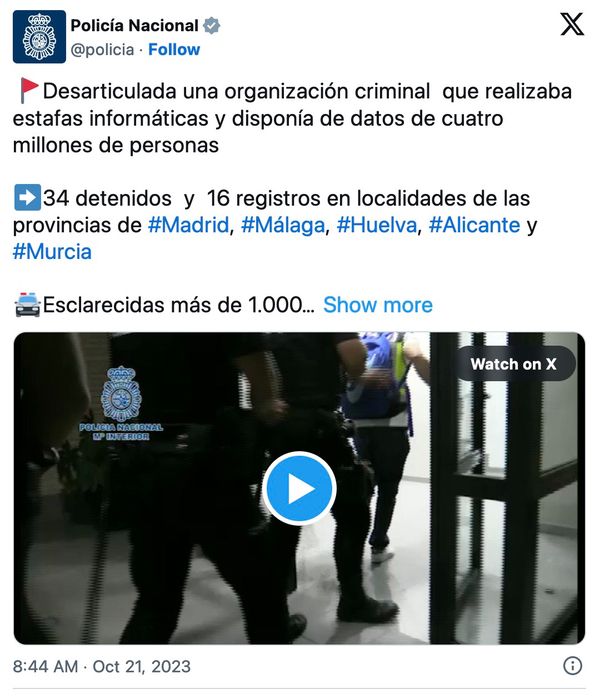 In a tweet, which included video footage of some of the arrests and raids on properties, Spanish police said that they were not ruling out the possibility that more perpetrators and victims may still be identified.
Spanish police have had a series of successes against cybercriminals in recent months, including the arrests of a suspected scareware developer, a prolific teenage hacker, and a phishing ring that stole 5 million Euros from US victims.